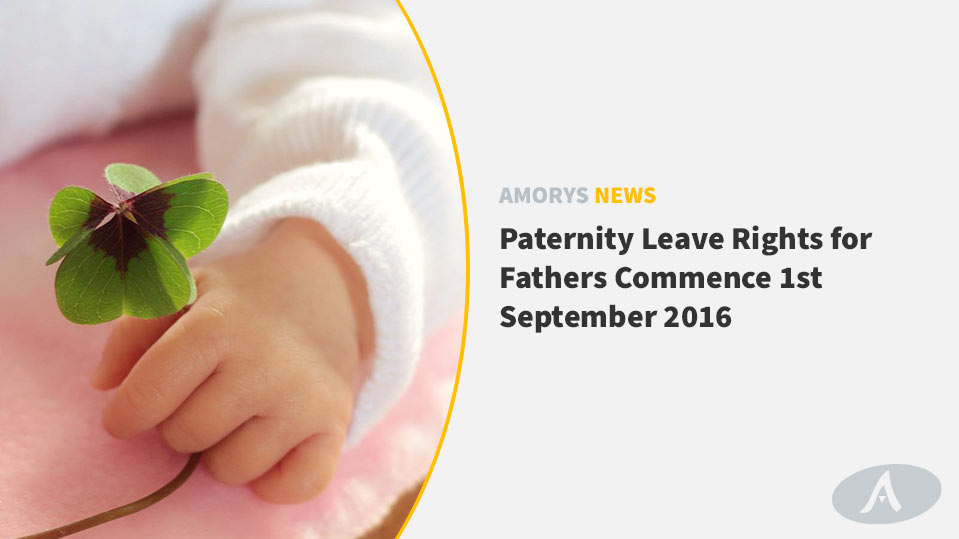 The Paternity Leave and Benefit Act 2016 gives 2 weeks paternity leave to fathers or the spouse, civil partner or cohabitee of children born on or after 1 September 2016, or to a spouse, civil partner, cohabitee, of an adopting mother or sole male adopter adopting a child on or after 1
st
September 2016.
Paternity leave can be taken from the date of birth or adoption of the child at any time prior to the expiry of 26 weeks after the date of birth or adoption.
Notification to the Employer of the employee or contractor's paternity leave should be given as soon as reasonably practicable, but no later than 4 weeks before the expected week of confinement of the mother or the adoption placement.
Paternity leave is given in a single block of 2 weeks. This is to enable the parent to provide or assist in caring for the child and to support the other parent.
Only one parent is entitled to paternity leave in relation to the birth or adoption of a child even where there is a multiple birth or adoption of 2 or more children at the same time.
If an employer has reasonable grounds for believing an employee on paternity leave is not using the paternity leave for caring or support for the child, the employer may terminate the leave. The employer can serve a notice containing the grounds for termination of leave requiring the employee to return to work.
Records of paternity leave dates must be kept for a period of 8 years or an employer, risks being found guilty of an offence, and a fine of up to €4,000.
While on paternity leave the employee is protected from unfair dismissal, penalisation, including selection for redundancy, unfavourable changes in terms or conditions or employment as a result of paternity leave. The employee can make a complaint to the Workplace Relations Commission of a breach of the Act.
Employees or self-employed contractors are entitled to paternity benefit where the Claimant has qualifying contributions.
Employers should update their Contracts of Employment and Employee Handbooks to incorporate this change.
This is a summary of recent changes and specific legal advice should be obtained. If you have any comments or queries, please contact Deirdre Farrell, partner, Amorys Solicitors deirdre@amoryssolicitors.com, telephone 01 213 5940 or your usual contact at Amorys.
Whilst every effort has been made to ensure the accuracy of the information contained in this article, it has been provided for information purposes only and is not intended to constitute legal advice.
Amorys Solicitors
is a boutique commercial and private client law firm in Sandyford, Dublin 18, Ireland.