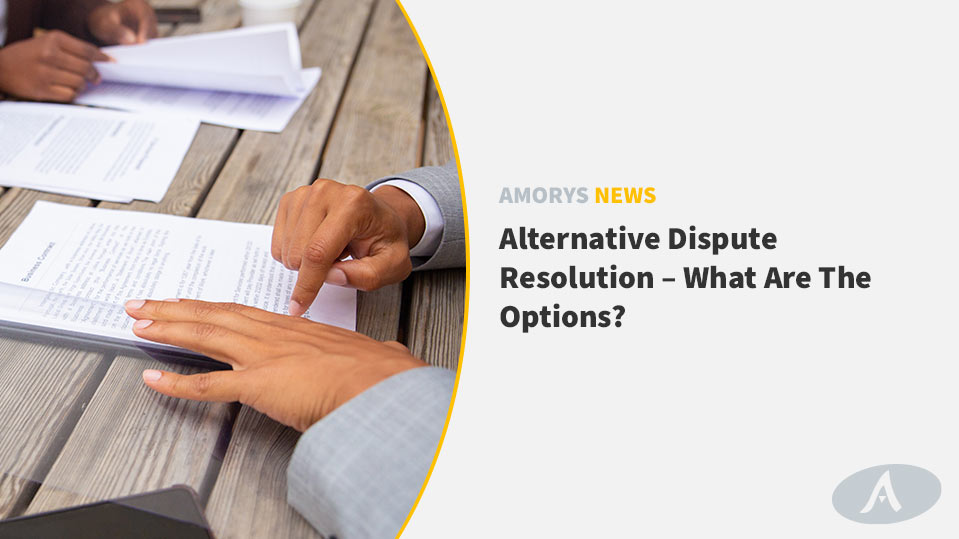 Alternative Dispute Resolution – What Are The Options?
Arbitration
 Arbitration frequently arises as a consequence of clauses in commercial contracts. Ireland operates a common law system, similar to the US and UK, and is often favoured to govern business contracts. If an arbitration clause is contained in a contract, as an alternative to litigation when a dispute occurs, the contracting parties are required to follow it. It is a dispute resolution process that can have many advantages over litigation, for example, any hearing will be held in private and arbitration is much quicker and cost efficient than court proceedings.
Arbitration is governed by the [i]Arbitration Act 2010 which came into operation on 8 June 2010. An arbitrator is appointed by the parties or nominated by an independent third-party nominating body. In terms of the format of an arbitration, the arbitrator will usually determine the procedure which the parties will follow and the arbitrator's decision is legally binding and cannot be appealed in the absence of fraud or manifest error.
[ii]Arbitral proceedings are deemed to commence on the date on which the parties to an arbitration agreement so provide as being the commencement date, or, where no provision has been made by the parties as to the commencement of proceedings, the date on which a written communication containing a request for the dispute to be referred to arbitration is received by the respondent.
Ireland has incorporated the [iii]UNCITRAL Model Law, which means that parties to a dispute are safe in the knowledge that awards granted in Ireland will be directly enforceable and have recognition in other states that have adopted the Model Law. To enforce an award, an application may be made to the High Court by way of Originating Notice of Motion grounded on affidavit exhibiting the original arbitration agreement and the award. Enforcement will only be refused on limited grounds such as whether it would be deemed contrary to public policy.
Mediation
Mediation is a flexible process and is entirely voluntary. Generally, decisions made in mediation are not legally binding but can be made so if both parties agree to it. It is conducted confidentially in which a mediator assists parties involved in a dispute to work towards a negotiated settlement.
Mediation is actively encouraged by judges and a party who unreasonably refuses to mediate can be penalised in terms of legal costs in the event of the case proceeding to a court hearing. Since the establishment of the [iv]Commercial Court, Order 63A, Rule 6(1) (xiii) of the Rules of the Superior Courts provides that a Commercial Court Judge may direct that a case be adjourned to allow for the matter to be referred to mediation.
The [v]Mediation Act came into effect on 1 January 2018. Under the Mediation Act, solicitors are required to advise their clients to consider mediation as a form of alternative dispute resolution and make a statutory declaration that they have done so.
If the parties agree to mediate, time stops running for the purpose of the limitation period in which to bring proceedings on the date when the parties sign the agreement to mediate. Time will recommence 30 days after any termination of the mediation.
In a typical mediation, the mediator will ask the parties to submit a short summary of their respective positions, in advance of the mediation hearing. On the day of the hearing, the mediator will spend time talking to the parties. If the parties agree on a settlement, then the mediator will, in conjunction with the parties, draw up a settlement agreement which the parties will then sign.
Conciliation
Like mediation, conciliation is a voluntary and confidential based process. The attractiveness of conciliation is that it is flexible, allowing parties to define the time, structure, and content of the conciliation proceedings. The process is conducted on a "without prejudice" basis, meaning that any documentation or information furnished by one party to the other during the conciliation cannot be used in any subsequent litigation. It is frequently utilised in employment and construction disputes.
The role of a conciliator is to help parties achieve a settlement of a dispute. If parties are unable to reach an agreement, the conciliator will issue a recommendation. This recommendation contains the conciliator's opinion as to how the dispute could be best resolved.
Sometimes conciliation is a prerequisite to arbitration, owing to a clause in a contract requiring parties to engage in conciliation before referring their dispute to arbitration or another form of dispute resolution. Conciliation has been very successful in settling disputes in the construction industry.
[i] https://www.irishstatutebook.ie/eli/2010/act/1/enacted/en/html
[ii] Arbitration Act 2010, Section 7 (irishstatutebook.ie)
[iii] https://uncitral.un.org/sites/uncitral.un.org/files/media-documents/uncitral/en/19-09955_e_ebook.pdf
[iv] https://www.courts.ie/rules/commercial-proceedings
[v] https://www.irishstatutebook.ie/eli/2017/act/27/enacted/en/html 
Whilst every effort has been made to ensure the accuracy of the information contained in this article, it has been provided for information purposes only and is not intended to constitute legal advice.
Disclaimer
This article contains general information based on Irish law and does not constitute legal advice nor is it intended to provide a comprehensive or detailed statement of the law.
Amorys Solicitors is a boutique commercial and private client law firm in Sandyford, Dublin 18, Ireland.
For further information and advice in relation to "Alternative Dispute Resolution options, please contact Mike Collum, Solicitor, Amorys Solicitors mike@amoryssolicitors.com, telephone 01 213 5940 or your usual contact at Amorys on our email address at info@amoryssolicitors.com.