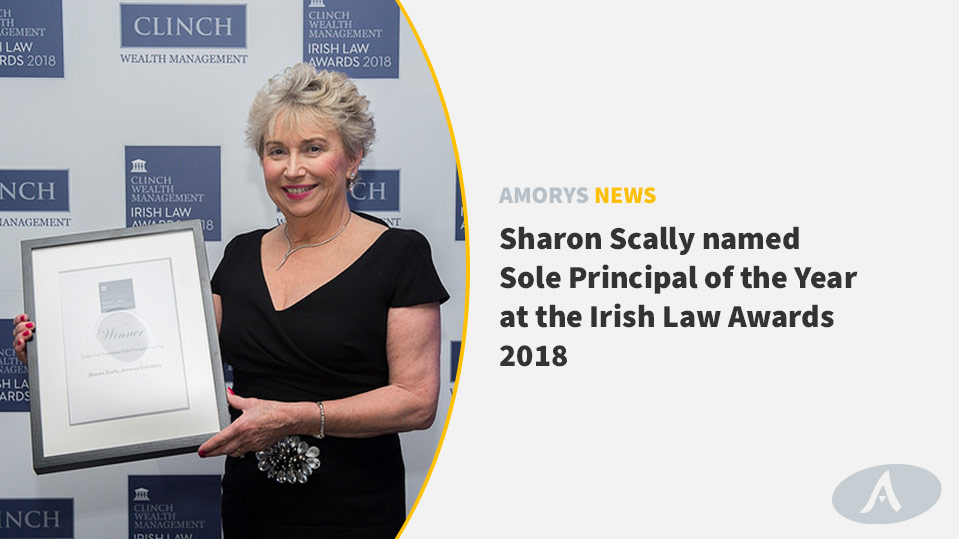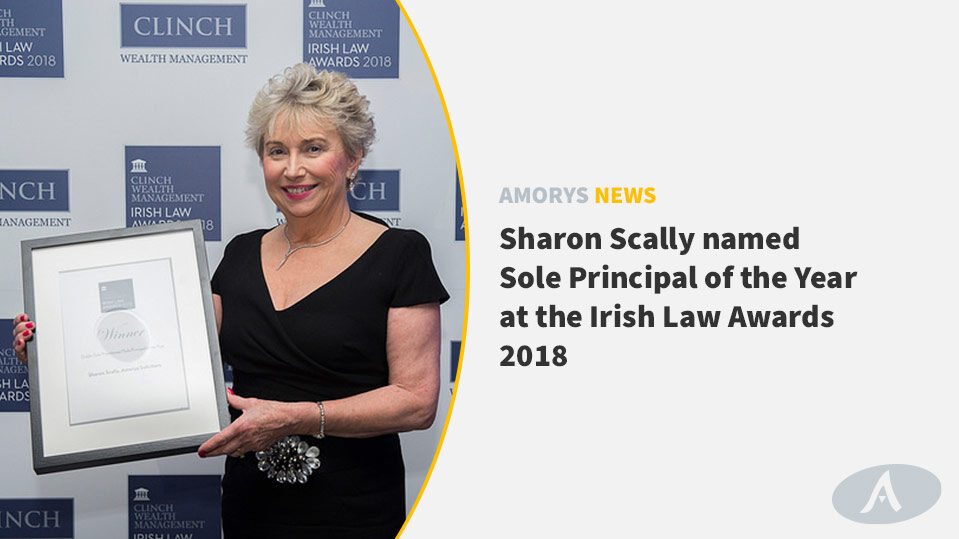 Sharon Scally has been named Dublin Sole Principal of the Year at the annual Irish Law Awards.
Over 90 firms, practitioners and in-house teams attended last Friday's ceremony which was opened by Minister for Justice and Equality Charlie Flanagan and hosted by RTÉ presenter Miriam O'Callaghan.
Now in its seventh year, the awards recognise excellence and achievement in the Irish legal industry and profession throughout Ireland.
Commenting on the awards Sharon Scally said: "Winning Dublin Sole Principal of the Year was very much a team effort.  We are thrilled for the recognition that this award represents in the Dublin legal community.  I would like to acknowledge the hard work of our team and the support of our clients and friends.  We will continue to ensure our clients receive the best legal advice and guidance available." 
Katherine O'Riordan, Event Director said, "The Irish Law Awards has become a huge success over the past 6 years. The event has grown exponentially and this year we are delighted to have the support of Clinch Wealth Management in recognizing excellence within the legal sector. The standard this year was exceptionally high."
Amorys was shortlisted in three other categories: Employment Law Firm of the Year; Excellence in Client Service; and Dublin Family Law Firm of the Year. Wendy O'Brien, legal executive was also shortlisted as a finalist for Legal Executive of the Year.
Sharon Scally and a small number of local ratepayers in Sandyford were instrumental in establishing a Business Improvement District scheme within the Sandyford Business District in 2017. Sharon Scally is the current chairperson of Sandyford BID CLG which has as its aims to strengthen and promote ties within the local business community, improve infrastructure and promote the Sandyford Business District as the premier destination in Ireland for talent and investment.
The Awards reception and proceedings were held at the Clayton Hotel, Burlington Road, Dublin 4 and charity partners for 2018 include the Solicitors' Benevolent Association, The Barristers' Benevolent Society and the Peter McVerry Trust.  Further information about the awards and other winners are available at www.irishlawawards.ie .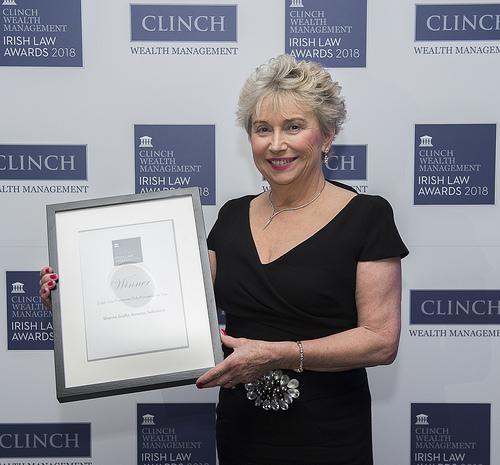 Whilst every effort has been made to ensure the accuracy of the information contained in this article, it has been provided for information purposes only and is not intended to constitute legal advice.
Amorys Solicitors
is a boutique commercial and private client law firm in Sandyford, Dublin 18, Ireland.
For further information and advice in relation to "Sharon Scally named Sole Principal of the Year at the Irish Law Awards 2018", please contact Deirdre Farrell, partner, Amorys Solicitors
deirdre@amoryssolicitors.com
, telephone
01 213 5940
or your usual contact at
Amorys
.