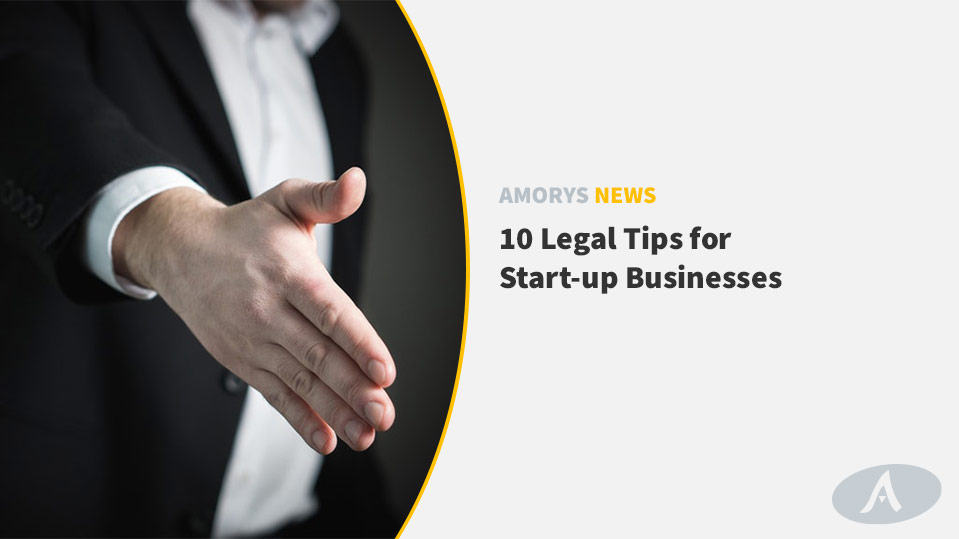 Make the deal between your co-founders clear from the outset.

Who gets what percentage of the equity/ shareholding of the company?
Is the percentage ownership subject to vesting based on continued participation in the business?
What are the roles and responsibilities of each founder?
If one founder leaves, does the company or the other founder have the right to buy back that founder's shares? If so, at what price?
How much time commitment to the business is expected of each founder?
What salaries (if any) are the founders entitled to?
Decide on the legal form (i.e. a company, a partnership or individual trader) that best suits your business at an early stage.
Have a standard terms of business contract in favour of your company when you are dealing with your customers.

The key is to start with your form of contract.
Get sample contracts of what other people do in the industry.
There is no need to re-invent a contract.
Try and minimise or negate any representations and warranties about the product or service.
Include a clause on how disputes will be resolved.
Carefully consider intellectual property protection. Is your business entitled to apply for trademark protection of its brand?  Is your product protected by the unregistered design right?  Is it proposed to register your design?  Would your product qualify for patent protection?  All of the foregoing questions should be considered prior to commencing to trade. Confidentiality in relation to your business and trade secrets is extremely important so think this through.
Brand your company in a way that does not potentially infringe the intellectual property rights of other traders in your industry. Defending proceedings alleging your company is in breach of another company's intellectual property rights is expensive and a decision may be made to re-brand at an early stage to avoid such litigation which can be expensive.  Tips:

Search Google for the name of your business and company name to see what other companies are using your name
Search in the Patent Office of Ireland and Trademark Office
Ensure your company's name is distinctive and memorable.
Keep up to date with employment law, have employment contracts for each of your employees and have employment policies in place and abide by them
Know the difference between employee and independent contractor. Whether an individual works for your business as an employee or an independent contractor or not depends on how s/he is treated in practice.  Does your business's worker work at one location for a fixed amount of hours at the company's direction?  If so, your worker could be deemed an employee despite being labelled an independent contractor or on your business's books and being treated as such for tax purposes.  The penalties for tax purposes can be huge.
Carefully consider important tax issues:

Are you entitled to the Start-Up Refund for Entrepreneur Scheme (SURE) or any other entrepreneur relief?
Would it be worthwhile setting up under the Employment and Investment Incentive Scheme?
Would your company qualify for Research and Development credit and would your company want to claim same? Revenue recording requirements can be prohibitive
Understand the difference in treatment of employees and independent contractors
If you are employing employees – inform yourself of the operation and your duties under PAYE legislation
Should your company register for VAT or other taxes?
Have a good Terms of Use Agreement setting out if cookies are used on your website and Privacy Policy for your website. A Terms of Use Agreement sets out the terms and conditions for people using your website.  Your Privacy Policy is a statement on your website setting out what you will do with the personal data collected from users and customers of the site, and how this data may be used, stored, sold or released to third parties.
Ensure you have a good solicitor! Ensure you have a solicitor to draft all documents relating to loans given to you both by accredited investors and family members.  This will help protect your business from unscrupulous investors, as well as non-professional investors such as family members who may later say that your business plan was misleading or that the deal was different to what you intended same to be.  Having formal documents and the correct structure in place at an early stage will also make your business more attractive for investors.
Whilst every effort has been made to ensure the accuracy of the information contained in this article, it has been provided for information purposes only and is not intended to constitute legal advice.
Amorys Solicitors
is a boutique commercial and private client law firm in Sandyford, Dublin 18, Ireland.
For further information and advice in relation to "10 Legal Tips for Start-up Businesses", please contact Deirdre Farrell, partner, Amorys Solicitors
deirdre@amoryssolicitors.com
, telephone
01 213 5940
or your usual contact at
Amorys
.