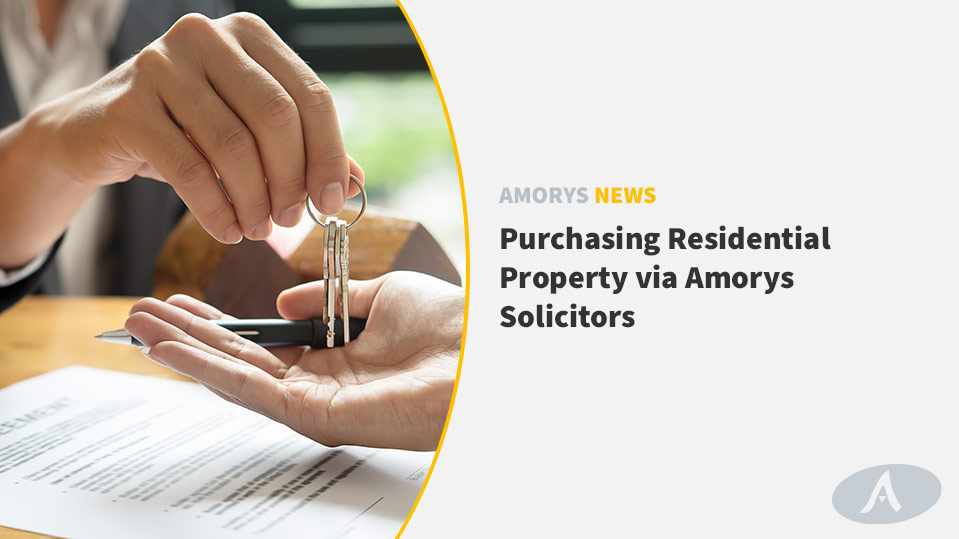 Purchasing Residential Property via Amorys Solicitors
What are you paying us to do?
At Amorys we do our utmost to make this very important event in your life run as smoothly as possible for you. We endeavour to ensure that our clients are fully informed, both before and during the conveyancing process, as to the procedures involved and the pitfalls which may be encountered when purchasing residential property.
Purchasing Residential Property Procedures
The following is a simple guide to the procedures involved and what work will be completed by your solicitor at Amorys:
You will give details of your solicitor to both the auctioneer and your lending institution. The auctioneer will provide your solicitor with a sales advice note.
Your solicitor will write to you with a comprehensive introductory letter, a questionnaire for you to complete and our Amorys Guide to Purchasing Residential Property which provides you with detailed information of the conveyancing process.
If they have not already done so, the vendor's solicitor will take up the title deeds to the property.  A draft contract for sale will be drawn up by the vendor's solicitor and this, together with the relevant supporting copy title documentation will be sent to your solicitor who will peruse the contract and all of the documents, including replies to Requisitions on Title, and identify any anomalies that may arise.
More often than not, pre-contract enquiries will be raised by your solicitor.  These may be straightforward questions which are easily satisfied by the vendor's solicitor or there may be more complex title problems.  They are rarely insurmountable but may be time-consuming to resolve.  Some queries may also arise as a result of answers you have provided in your questionnaire so it is very important that this is completed as accurately as possible.  For example, you must give us details of any works, such as an extension to the property, which you understand may have been carried out, so that we can ensure that we receive all necessary planning information from the vendor's solicitor.  This forms an important part of the title and will be required by your lending institution.
In some circumstances, the vendor or their solicitor may not be willing to provide information or documents which are considered necessary by your solicitor and there can be a considerable amount of "to-ing and fro-ing" until all is satisfactorily resolved.
Once you and your solicitor are happy with the draft Contract for Sale then it is ready to be signed by you.  You will be fully advised by your solicitor as to the legalities of what you are signing.  At this time, you will be required to sign the mortgage deed and other documents, all of which will be fully explained to you.
When we have transferred the balance of the deposit (received from you into our client account) to the vendor's solicitor and the vendor also signs the Contract for Sale, one part is returned to your solicitor and a binding contract is in place.
Your solicitor will continue to liaise with you regarding the progress of the conveyance, any outstanding matters relating to your loan, etc.  You will be provided with a cash statement outlining all your financial obligations prior to the closing date.
Approximately ten days prior to the closing date, your solicitor will request drawdown of the loan money from your lending institution which will be paid into our client account.  If there is a balance of money required from you, you will be asked to furnish these funds to your solicitor a minimum of five working days prior to completion, together with fees, outlays and stamp duty payable.  Your solicitor will also ascertain from the vendor's solicitor what is required vis-à-vis the apportionment of Local Property Tax and service charges (if applicable).  If you are purchasing an apartment, there are a number of additional documents which will need to obtained from the vendor's solicitor prior to the closing date (such as block insurance indemnity letter, service charge history, etc.).
On the completion date, searches against the property and the vendor will be carried out by your solicitor and any unexplained acts that arise will be certified by the vendor's solicitor.  Once the searches are "clear" and all required title documents are received from the vendor's solicitor then the balance of the purchase money are transferred/released and the transaction is complete.
Post Completion
Even though you are in possession of your new property, your solicitor's work is not over and the following will be required post-completion:
Payment of stamp duty online as soon as possible and obtaining a stamp duty certificate;
Following up on any undertakings given by the vendor's solicitor – such as discharge of the vendor's mortgage, payment of any outstanding service charges, LPT etc.
If necessary, preparing the documentation required for an application for first registration to the Land Registry;
Preparing all documents to be submitted to the Land Registry for registration;
When registration has been completed, scheduling all title documents and preparing the Certificate of Title for submission to your lending institution.
When all of the above has been completed, your file is ready for archiving. Our firm is obliged by the Law Society to retain your file for up to 12 years. It is the practice of our firm to send files to an off-site storage facility.
The purchasing residential property procedures above are a simplified version of the conveyancing process.
A conveyancing transaction requires many hours of work for your solicitor and every purchase is different but all conveyancing cases have one thing in common – they all need the care and attention to detail that only comes from instructing an experienced professional.  We provide excellent value for money to our clients and are confident that we provide a highly competitive and first-class service.
Red Adair once said .. "If you think it's expensive to hire a professional to do the job, wait until you hire an amateur"!
Leading Dublin solicitors which provides high quality legal advice
Get Your Guide to Purchasing Residential Property
Whilst every effort has been made to ensure the accuracy of the information contained in this article, it has been provided for information purposes only and is not intended to constitute legal advice.
Amorys Solicitors
is a boutique commercial and private client law firm in Sandyford, Dublin 18, Ireland.
For further information and advice in relation to "Purchasing Residential Property via Amorys Solicitors", please contact Deirdre Farrell, partner, Amorys Solicitors
deirdre@amoryssolicitors.com
, telephone
01 213 5940
or your usual contact at
Amorys
.