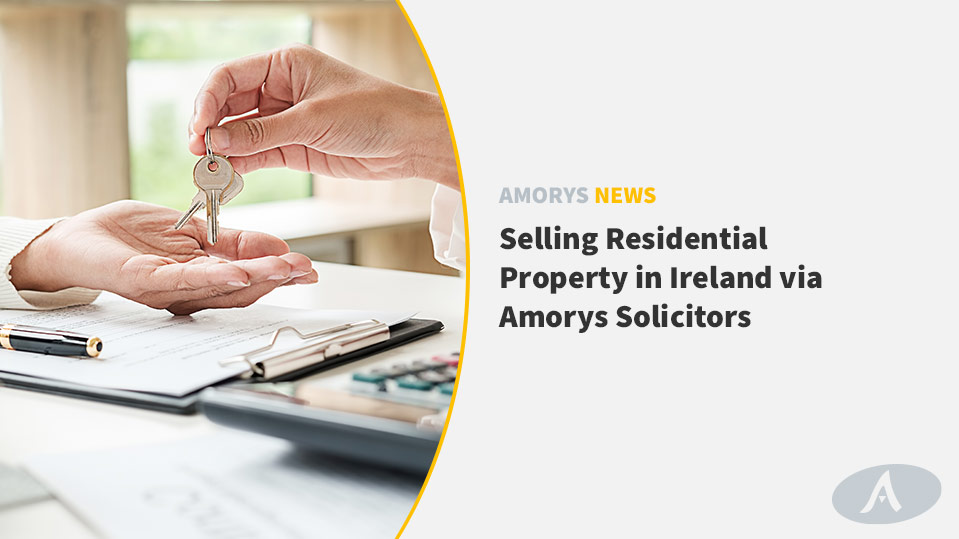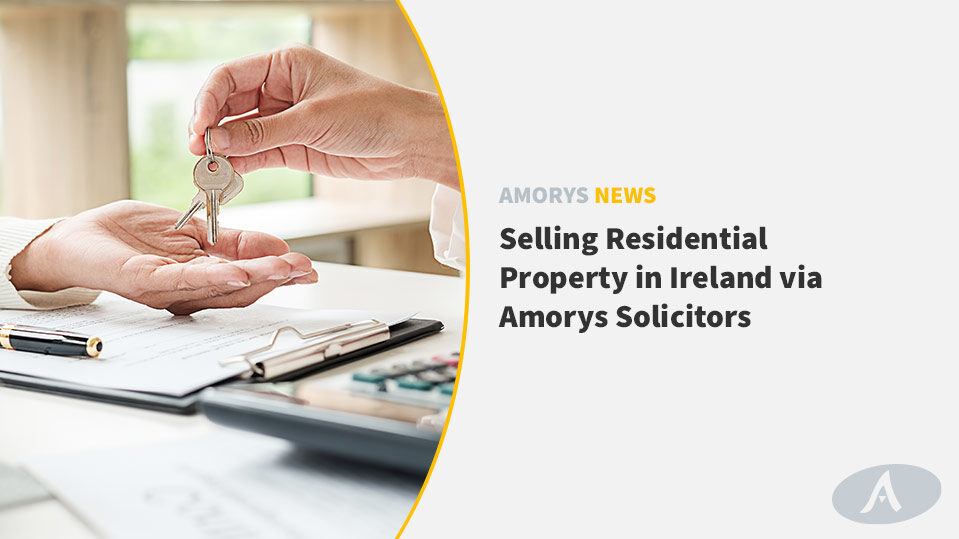 Selling Residential Property via Amorys Solicitors
What are you paying us to do?
When selling residential property you will be required to work in conjunction with your solicitor at Amorys throughout the conveyancing progress. There is certain information only you can provide and if this is done in a timely fashion this will enable the transaction to move forward smoothly for you as the vendor and for the purchaser.
Prior to drawing up contracts, in addition to information gathered from you, the vendor, your solicitor will need to read the title deeds and prepare various documents to provide to the purchaser's solicitor so that he/she can provide the purchaser with a full picture of the property they are buying.
The steps of selling residential property are as follows:
If there is a mortgage over the property, you will sign a letter of authority which will be sent to your lender by us in order to take up the title deeds. You will also be furnished with an introductory letter, a comprehensive questionnaire and our Guide to Selling Residential Property which attaches a checklist of the documents/ actions required from you.
Once received, your solicitor will read the title documentation in conjunction with the replies to your questionnaire and the following documents will be drawn up:

Draft Contract for Sale
Replies to Requisitions on Title
Family Home Protection Act Declaration
Declaration re alterations (if any) to your property
Undertaking to discharge your mortgage – if applicable
Undertaking to assist with any Land Registry queries which may arise
Any other declarations or undertakings which may be required by the purchaser's solicitor
Tax clearance application (if necessary)

If your property is a managed property, enquiries will need to be made with the management company and Multi-Unit Development (MUDs) Act replies to requisitions obtained. In addition, if you are selling an apartment, your solicitor will need to obtain various additional documents from the management company such as an up to date service charge statement and a letter of indemnity in relation to the block insurance policy, all of which must be handed over to the purchaser's solicitor well in advance of the closing date.
Your solicitor may also need to obtain a letter from the Local Authority confirming the roads and services abutting your property have been taken in charge and a certified copy Folio and Filed Plan from the Land Registry. There may also be planning issues to be dealt with in relation to any alterations or extensions to the property. Further work arises, if your property is the subject of any type of co-ownership agreement with the local council. If your property is registered in the Registry of Deeds, then your solicitor will need to liaise with an architect to provide an approved map for handing over to the purchaser's solicitor for the purpose of an application for first registration in the Land Registry.
Your solicitor will regularly liaise with you with regard to obtaining other information from you such as Local Property Tax payment and printout, service charge payment and any other queries which may arise via the purchaser's solicitor.
Your solicitor will need to obtain regularly updated redemption figures from your lender showing the amount required to discharge the loan over your property. This information will be provided to the purchaser's solicitor prior to the closing date and will also be required to enable your solicitor to discharge the mortgage in full immediately after the sale has completed.
Prior to contracts being signed and exchanged, the purchaser's solicitor very often raises pre-contract queries which we will deal on your behalf. This may involve some 'to-ing and fro-ing' between solicitors until the purchaser and their solicitor are satisfied with the replies.
The purchaser will then sign the contract in duplicate and his/her solicitor will return same with the balance of the deposit to us.
Prior to the closing date, your solicitor will meet with you for the purpose of signing the closing documents referred to. Your solicitor will also need to prepare an apportionment account in relation to Local Property Tax and service charges (if appropriate).
Just before the transaction completes, all title documents, together with the additional closing documents, will be sent to the purchaser's solicitor. The balance of the purchase moneys will be received into our client account to be held on trust pending a successful completion.
On the closing date, the purchaser's solicitor will obtain searches which will be transmitted to us for an explanation (if necessary) and certification.
Post-Completion
Once the sale has closed, we will be required to do the following:

Discharge all mortgages/loans over the property to your lender
Provide you with a cash statement showing all required financial transactions
Follow up with the relevant party and discharge any undertakings given to the purchaser's solicitor
Once received, send e-discharge relating to your mortgage to the purchaser's solicitor
Follow up with purchaser's solicitor to release us from undertakings
The selling residential property procedures above are a simplified version of the conveyancing process. A conveyancing transaction requires many hours of work for your solicitor and every sale is different but all conveyancing cases have one thing in common – they all need the care and attention to detail that only comes from instructing an experienced professional.  We provide excellent value for money to our clients and are confident that we provide a highly competitive and first-class service.
Red Adair once said .. "If you think it's expensive to hire a professional to do the job, wait until you hire an amateur"!
Whilst every effort has been made to ensure the accuracy of the information contained in this article, it has been provided for information purposes only and is not intended to constitute legal advice.
Amorys Solicitors
is a boutique commercial and private client law firm in Sandyford, Dublin 18, Ireland.
For further information and advice in relation to "Selling Residential Property in Ireland", please contact Deirdre Farrell, partner, Amorys Solicitors
deirdre@amoryssolicitors.com
, telephone
01 213 5940
or your usual contact at
Amorys
.